Our Story
It began in 1978 as a car care product and cleaning chemical sales venture. Earl Peachey called his new company Epco. Genuine value and a heart for the real needs of the customer were his motto. His list of smiling customers grew in bounds, and soon he added fasteners and power transmission to the lineup.
Glenn Yoder bought the enterprise in 1987 with visions of continuing to build the service legacy of Epco as a local fastener and maintenance supply company. It was a small beginning involving the whole Yoder family. Unloading trucks by hand, and working in an unheated barn, eventually gave way to broader offerings and bigger facilities as the customer base has expanded. Now Glenn's sons, Luke and Tim, have taken ownership.
Today business owners, purchasing agents, service managers, and maintenance managers are continuing to discover the one-of-a-kind company Epco has become. Small enough to serve its clients exceptionally well yet large enough to give breadth and depth of products – it's a perfect match for the metalworking related enterprises that make up the fabric of our communities. Epco is here to help you succeed.
Meet Our Staff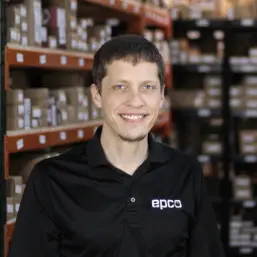 Luke Yoder - President
Luke, a 21 year veteran of Epco Sales, enjoys solving process problems and, even more, the camaraderie built working with customers, vendors, and employees. Time with his beautiful wife Christina and friends is a favorite pastime. His six children, often hidden behind books, follow in his steps with their passion for reading.




Tim Yoder - Vice-president & Sales Manager
For 27 years, Tim continues as a valued member of Epco sales. He equips the sales and marketing team with all they need to thrive in their roles and takes joy in doing his best at VMI and sales calls. Outside of work, building connections with family and friends ranks high on his favorites list. His wife Serena and 3 children are honored to ride along on his service calls occasionally.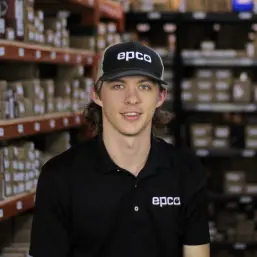 Darrell Bontrager - Sales Representative
Since Serving Epco Sales for 11+ years, Darrell believes that his favorite aspects of the job are great co-workers, building lasting relationships with customers and watching his customers grow their business. He married his bride, Kaylee, in December of 2020. He enjoys traveling with his wife and friends. He also has a passion for the outdoors and wildlife especially Elk hunting. He looks forward to going out west each year to chase bugles with his bow in his hand.


Austin Bontrager - Sales Representative
In his 5th year with Epco Sales, Austin testifies that the encouragement he receives and the "easy to be himself" atmosphere are favorite aspects of his job. He married his bride, Tina, in August 2019. They welcomed a beautiful baby girl in August 2021. In his free time, he loves spending quality time with his little family and playing video games.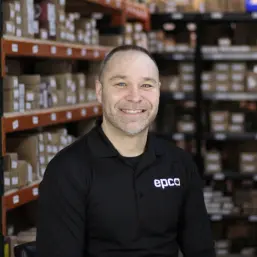 Brian Hearld - Sales Representative
Interacting with great people and stretching challenges keep Brian thriving in his 7 years (and counting) role at Epco. Not only do golf and tennis keep him moving on the sideline; his two children (and two cats) also fill a huge part of his life at home.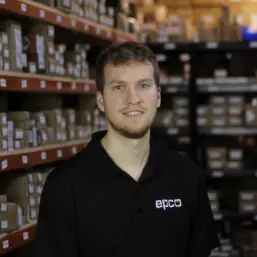 Marcus Rodes - Accounting Manager
In the 6 years Marcus has worked for Epco Sales, his co-workers and the learning possibilities in multiple areas keep him thriving. Away from the job, disc golf, family, and video games create a few outlets for his energy. His lovely bride of 3 years also enriches his world tremendously.


Loren Slabaugh - Purchasing Agent/Office Manager
Loren started at Epco Sales in April 2015 and appreciates the challenges and opportunities that come with looking for solutions in supply and demand, inventory management, and overall efficiency. He enjoys quality friend and family time as well as building various aspects of community, local agriculture, and Christian brotherhood.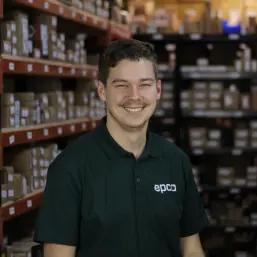 André Martin - Purchasing Agent
André has enjoyed the fun, friendly, and stress-free atmosphere that Epco provides, since joining the team in January of 2022. He is a pianist and a Christian. André likes cats, playing video games, and going on trips with his parents and three siblings.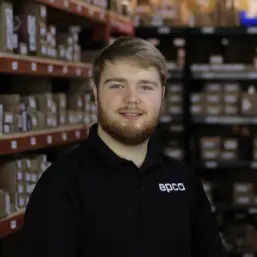 Skyler Mullet - Customer Service
Since joining the team in the spring of 2021, Skyler has enjoyed many aspects of working at Epco. From the warehouse, to receiving, to customer service, he has enjoyed creating relationships with his co-workers and customers along the way. In his free time, he enjoys hanging out with his wife and child and playing sports and games with his family and friends.


Leon Shirk - Customer Service
Leon is one of the newest members to the team, coming with five years experience in customer service. In his spare time, he loves to cook, draw, and build models. Leon also enjoys playing board games and video games.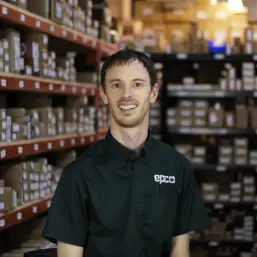 Joel Lehigh - Marketing
Joel joined the marketing team in June of 2022. He enjoys working with the website, which to this point has included sourcing product photos and weights, addressing any technical issues that arise, and overall trying to make it more user friendly. Joel married the love of his life, Tiana, in March 2021. They are blessed to be the parents of a daughter and expect a son in June 2023.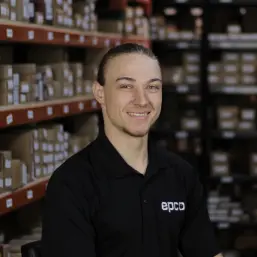 Shane Nissley - Warehouse Manager
Shane has been with Epco for 6 years and likes that here, people are priority. He enjoys finding solutions to problems and likes to constantly improve things like; processes, workflow and making things more efficient in general. Some of Shane's hobbies are; hunting, fishing, welding and playing disc golf. He also enjoys grilling food for coworkers and friends, especially things that he has hunted, whether it be deer, elk, rabbit or frogs.
Contact Epco Sales to Learn More About Our Team Today
For more information on how our team and sales staff can help you achieve your desired results, give us a call at
574-825-9750
or
get in touch with our sales team
and we will be happy to assist you with your product needs. Epco Sales is your trusted source for premium industrial supplies and services.