Industrial Fastener Supplier for Mishawaka, IN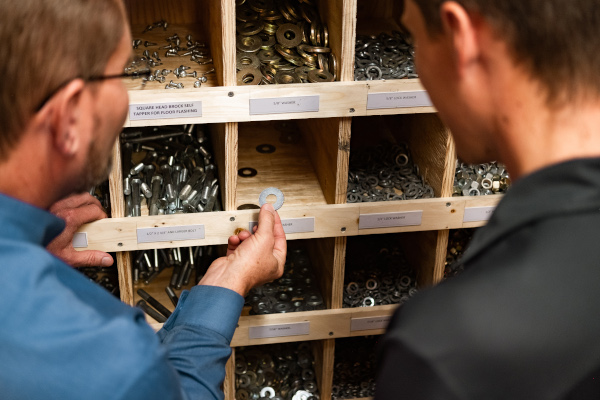 Epco Sales provides industrial fasteners & supplies to agriculture, repair, metalworking, and manufacturing shops in the Mishawaka, IN area. Our convenient website & superior service makes ordering your fasteners, tools & abrasives, hoses & fittings and more, helping you avoid a disruption in parts supply, saving you time and money wasted.
This is where we can help: our vendor managed bin services will relieve you of the parts ordering headaches. We inventory, order, and stock your parts bins so you can focus on what is really important: running your manufacturing facility.
Why Mishawaka Indiana Shops Use Epco Industrial Fasteners
Epco Sales provides premium quality industrial fasteners & supplies with straightforward pricing tiers. Compare our premium quality fasteners to the Fastenal brand or your current supplier, see our superior quality. Call us at (574)825-9750 [ZF1] to compare our price in the tier level you would be purchasing from us against what you currently pay, if we can save you money open an account with us.

Does your current supplier offer you the level of service you will get from the Epco Sales team? Do they handle everything from inventory, to ordering, and then stocking the parts? We exist to make the life of a shop manager easier.
5 things you receive when you partner with Epco Sales:
Fast & Friendly Hands-On Service
All Types of Fasteners In-Stock
Next Day Delivery on All Stock
Straightforward Pricing
Legendary Product Quality

Need A Custom Tailored Inventory Management Plan?
Your maintenance department and/or component buyers need options. Our sales team will customize a plan to get you what you need, when and how you want it. We'll meet regularly with you to analyze how we can better serve you, cutting off inefficiencies, enhancing JIT inventory solutions, sourcing key products, and researching solutions for unique applications.
Discount Service Tier Options for Mishiwaka, Indiana
Epco's experienced technicians understand that every business is different. That is why we created our structured pricing tiers that offer unique discounts and prices depending on your business needs. Take a look and compare our Venture, Production, and Enterprise tiers and decide which one is right for your Mishawaka business. Our convenient website means you can order anything from hex nuts to ball bearings on short notice – our dedicated team will ensure a quick delivery to keep your manufacturing facility, repair shop, and more running like a well-oiled machine.

To learn more about our service plan pricing tiers and service pack options, give us a call at: 800-671-9852 or Contact Us to speak with one of our experts.
Industrial Fasteners Available for Mishawaka, Indiana
Epco Sales offers a full line of industrial fasteners including:
| | | |
| --- | --- | --- |
| Anchors | Pins | Screws |
| Bolts | Retainers | Set Screws |
| Lock Nuts | Rivets | Washers |
| Nuts | Rods & Studs | and More... |
Other fasteners we stock include but are not limited to: Coupling Nuts and related Nuts, USS & SAE Flat Washers, Split Lock Washers, Tap Bolts, Carriage Bolts, Plow Bolts, Machine Screws, Self-Drilling Screws, Drywall Screws, and much more. Need a small fastener assortment kit? We have that as well. If you need a specialty fastener, we most likely have it in stock, call us today.
Products We Offer In Mishawaka, Indiana
| | | |
| --- | --- | --- |
| Abrasives | Hoses & Fittings | Power Transmission Supplies |
| Cables & Chain | Industrial Fasteners | Safety Supplies |
| Chemicals & Cleaners | Lubricants & Sealants | Tools |
| Electrical Components | Paint | Towing Supplies |
Epco Sales offers a full line of industrial fasteners including: anchors, bolts, lock nuts, nuts, pins, retainers, rivets, rods & studs, screws, set screws, washers, and more. Need a hinge or a latch? We have those. Contact us for more information on our industrial fastener solutions, or give us a call to speak to one our experts today.
Major Brands We Supply To Mishawaka, IN
| | | |
| --- | --- | --- |
| AMI Bearings | IPTCI Bearings | SynGard |
| BESTORQ | LUBRIPLATE | TENRYU |
| FK Rod Ends | MASTERDRIVE | VIKING DRILL & TOOL |
| G & G Manufacturing | MOLINE BEARING CO | XTREME |
| HKK Chain | NUCOR | And More... |
Industrial Fasteners & Supplies Service Area:
Epco provides industrial fasteners, parts, & tools to manufacturing facilities located in Northern Indiana & Southern Michigan including but not limited to Mishawaka, IN.